1989 Coupe bought on September 14, 2001 with 148,000 miles.
Upgrades I've added.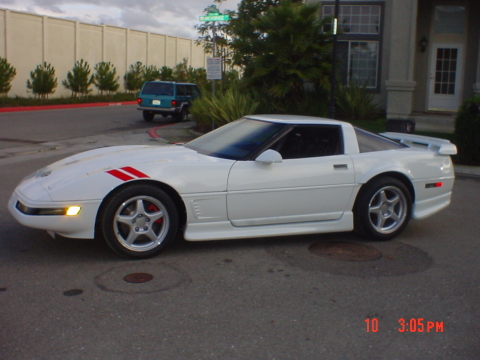 Engine: SLP Air Foil, K&N, Open airfiliter cover, Superchip, Accel 8.8mm*, Super Ram (Plenum, Runners & Base - Ported)*, 94219 Cam*,LPE Headers*,BBK Fuel regulator*, 36# injectors*, Accel HEI Coil, Muffler Eliminators .
Exterior: GS Fender Flairs, Greenwood Wing, Greenwood klone Kit, 96 Fenders, 92 Front End, 94 Rear end,GS Stripes.
Interior: Recarpet from Brown to Grey, Corbeau A4 seat, Dash Panel kit, Momo Apache steering wheel.
Suspension: OE Concepts A-Molds 17x9.5 Front, 17x 11 Rear ZR1 Offset, Sumitomo HTZR 275's & 315's, Camber Brace, Cross Bar, Heim Trailing Arms, Front and Rear Heim Sway-bar links, Heim Camber rods, DRM coilovers, Heim front tie rods, Polygrahpite Bushing A-Arms & Sway bar holders , Z51 Steering Rack
Brakes: C5 Front Brakes, Durostop C5 Rotors, Goodride Stainless Steel brake lines, brake coolers
Audio: Pioneer; Headunit - DEH-P77DH, Changer - CDX-FM1257, Subwoofers - 10", Blaupunkt; Amps - MPA160US (x2), MPA400US (x2), Speakers - PCxt462, PCxt652, PCxt693, Home made sub box. Kicker S10L7 Subwoofer*
*Stilling on the garage bench or waiting for